Description
1. Q: Can I have a seat?
A: Yes, seats can be purchased separately and installed easily.
2. Q: Can this scooter set a speed limit of 25 kilometers per hour?
A: Yes, after you receive the scooter, we will send you a video to teach you how to connect the speed limitation wire to set the speed to 25KM/H, in compliance with European law
3. Q: This approved by the CE?
A: Yes, all scooters have passed CE certification, and the seller can provide certification
4. Q: What about the shipping time?
A: If you choose to ship from China, it will cost 30-45days/ If you choose to ship from our Overseas warehouse only need 3-7days delivery time by DHL or UPS
5. Q: Is that can ride on Rainy days?
A: Yes, our electric scooters can be driven on wet and rainy days, but we do not recommend immersing them in water for a long time.
6. What is the weight of X700?
A: The net weight of the X700 electric scooter is 35kg
7. Q: What is the product highlight of X700?
A: X700 has a 52V dual drive, with HM 2600W motor, JP 25A controller, 20Ah battery, front and rear spring shock absorption, Dual disc brake
8. Q: What is the performance of X700?
A: Max Speed 75km/h, Max Output 2600W, Maximum mileage at full power 70km.
9. Q: Is there any warranty with your scooters?
A: Yes, the warranty is 6 months for the battery, 12 months for other spare parts. If scooters are damaged during transportation or have a problem once arrive, free accessories will be sent from China and the freight will be on the seller's side.
Configuration : 48V 20AH/52V 20AH
Max.Range : 70KM
Max.Speed : 65/75 KM/H
Max.Climbing : <35°
Charging time : Around 8-10hrs
Motor power : 48V 1300W*2/ 52V 1300W *2 brushless motor.
Frame material : T6061 Aviation Grade Aluminum+one-piece forging
Brake : Front and Rear Disc Brake +EABS
Shock Absorber : Front and Rear Hydraulic Shock Absorber
Tire : 10inch Vacuum Tires
Light: 2 Bright Front lights+brake light+side light
N.W : 30KG / 35KG
Notice and Remind:  Performance of scooter may vary by weight or road condition, the un time may vary depending on riding conditions, climate, and/or proper maintenance. Jueshuai has Professional Technical Support, if you have any questions or concerns please send us a message.
●1* Electric Scooter
●1* Power Charger(Comply with different national standards)
●1* User Manual
●1* Tool
●1* CE certificate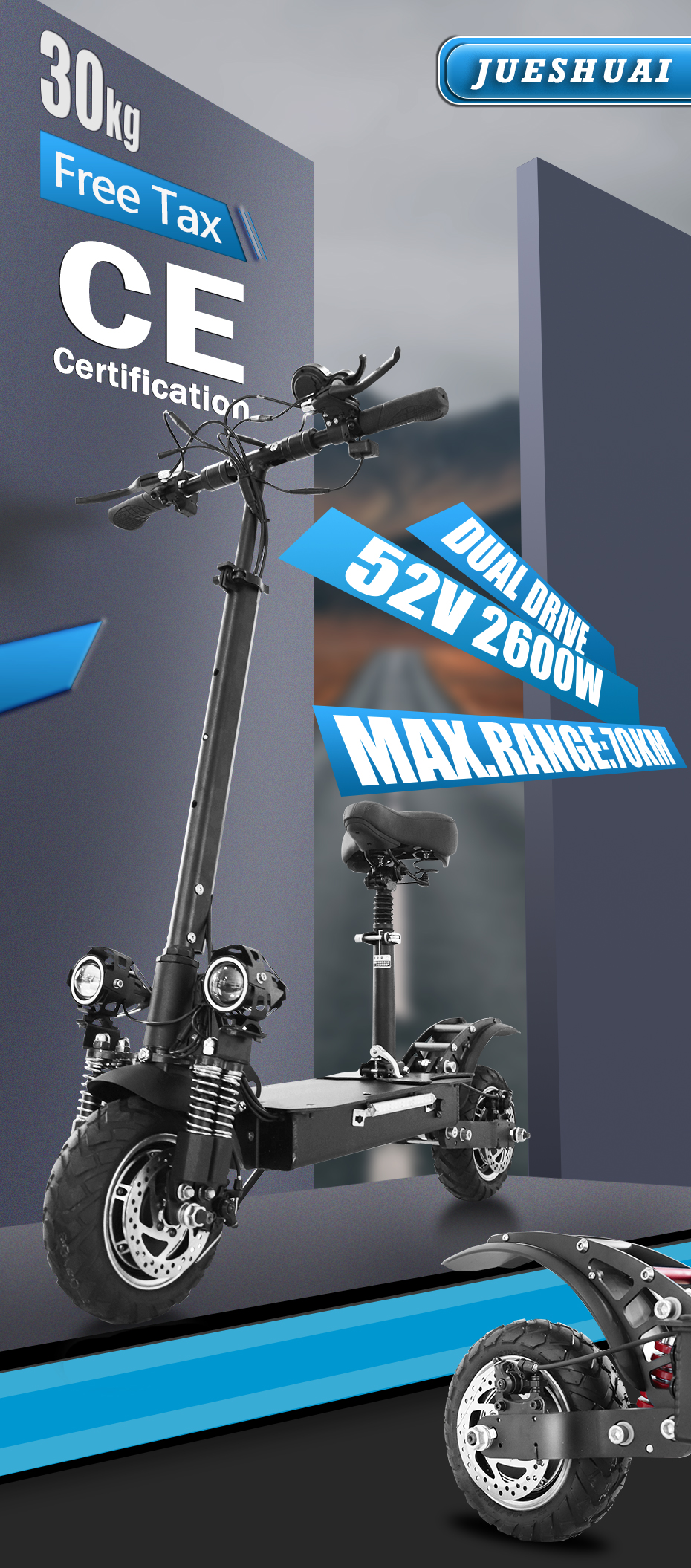 A Trustworthy Goodbrand
Each scooter has passed a number of strict inspection tests
Safe product and safe Riding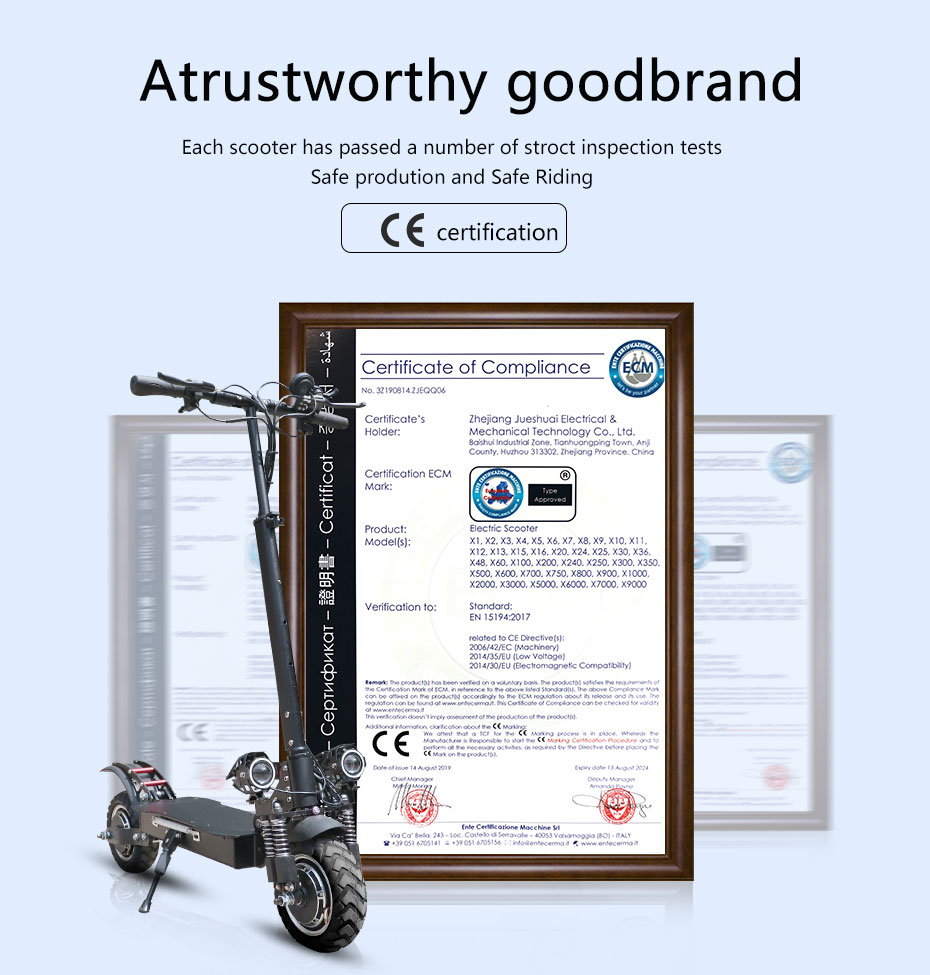 2600W Double Motor
X700 Electric Scooter has two ride model:
A: When you turn on the ECO TURBO riding mode, the scooter will stay in low-speeded mode below 25km/h.
B: When you turn on the Dual Motor riding mode (red button), you will enter the sport mode, the motor will output powerful torque, and the maximum speed can reach 75km/h.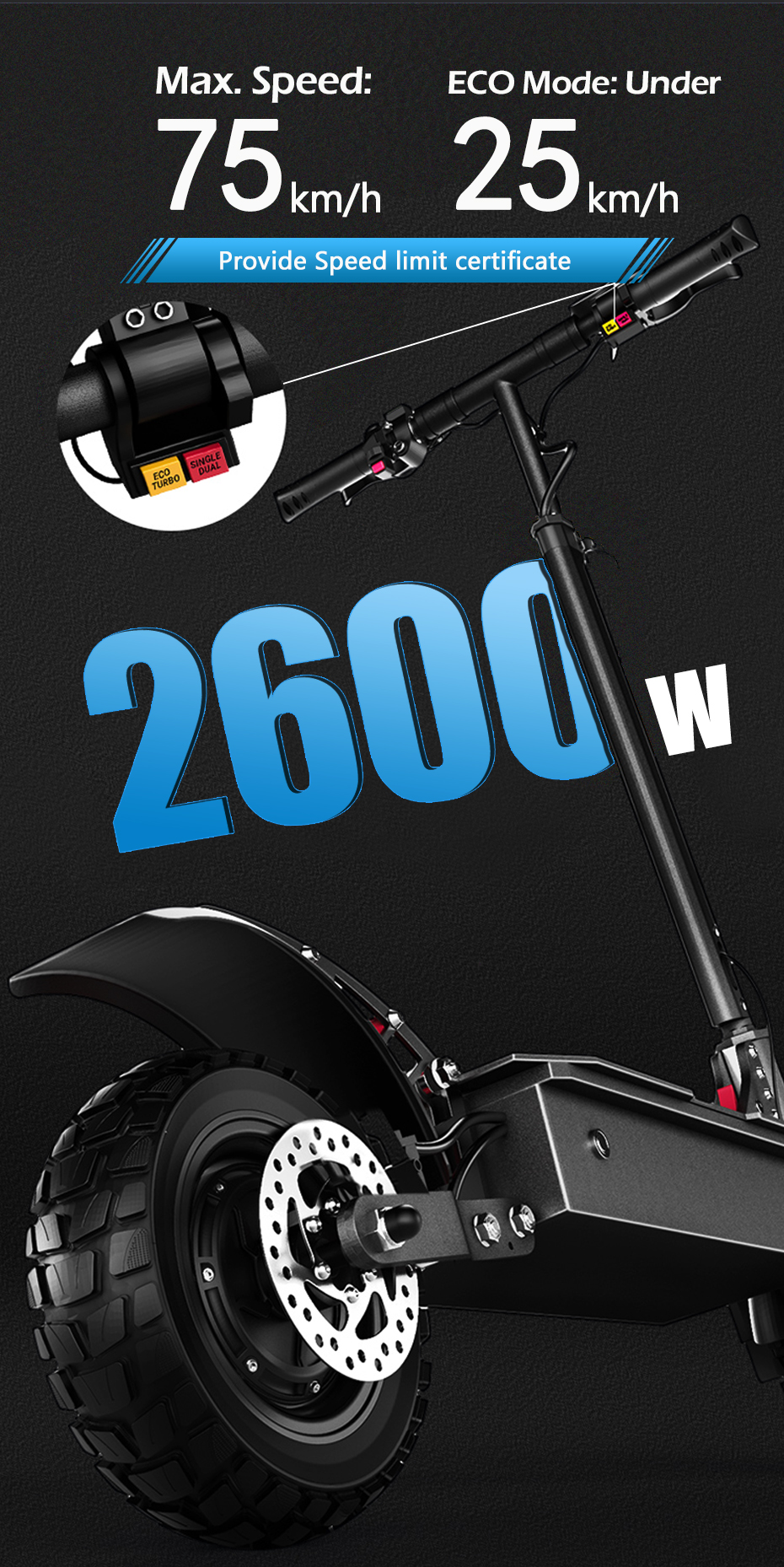 3 Speed Gears/Display information
What information will be shown on the display?—Speed gear, speed, distance, battery power, usage time, and error.
By setting the display, we can:
1.change the speed unit (KM/H or MPH)
2.turn on/off cruise mode
3.limit the speed
4.choose zero/non-zero start mode
5.adjust EABS brake strength
6.adjust start acceleration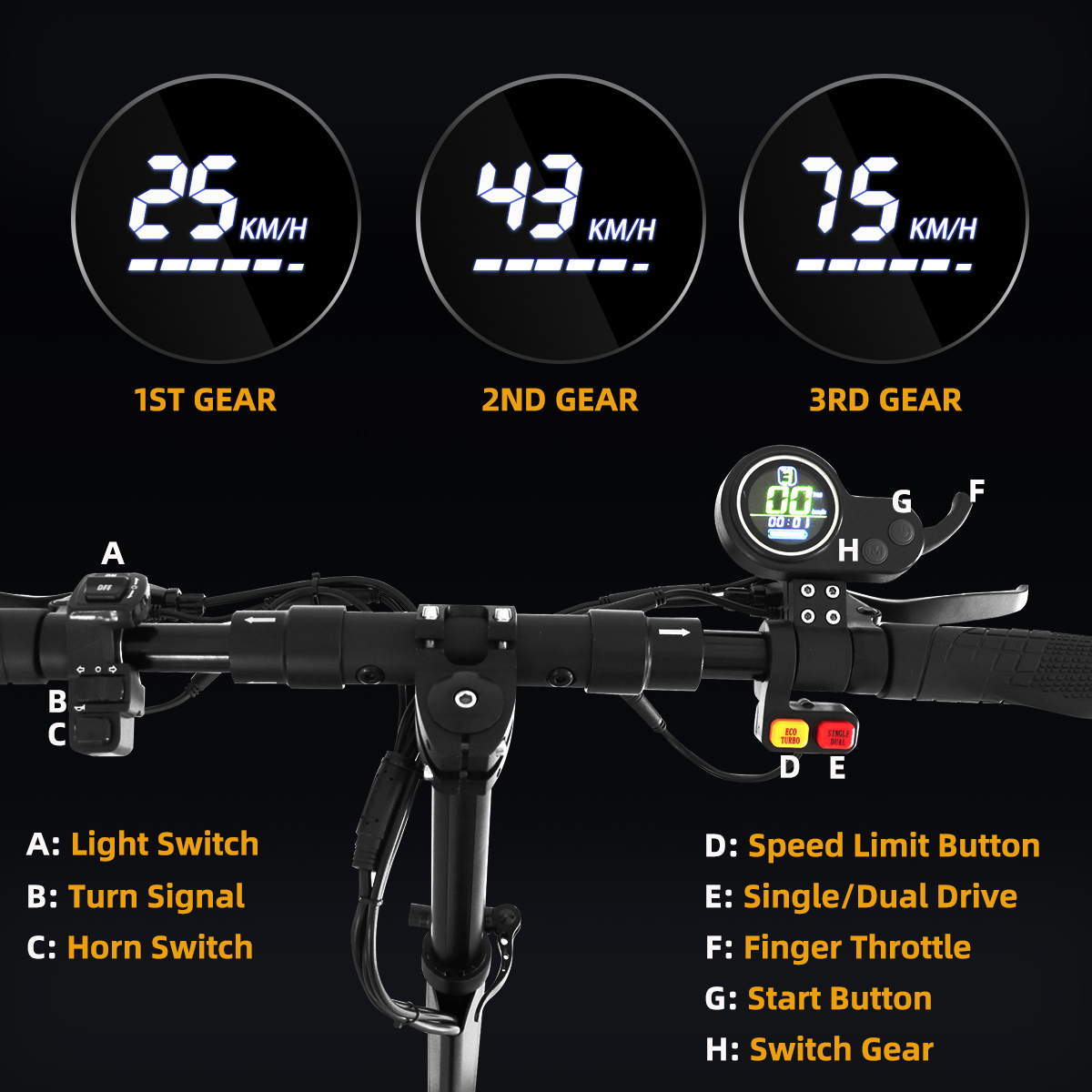 Great Climbing Ability
Double Motor
Suitable for riding outdoors 45°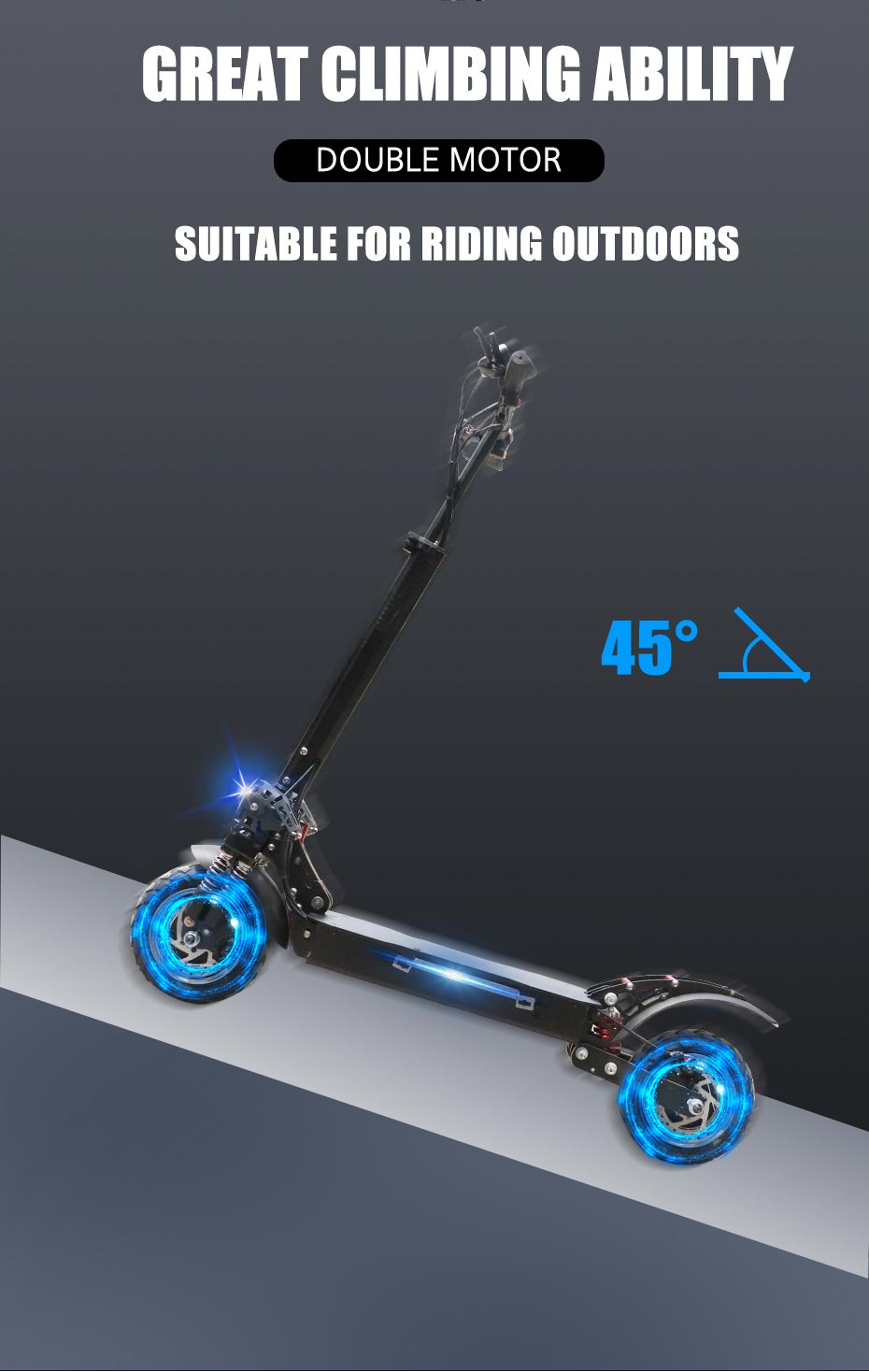 20AH Lithium Battery
After the scooter is fully charged, it can continue to travel about 75km.
A. Customers are advised not to charge the scooter immediately after receiving the scooter, it needs to stand still for 3 days.
B. And it is not recommended to charge in a ventilated and open place to ensure that the surrounding environment is dry and free of debris.
C. The charging time is recommended to be less than 4 hours, and it is forbidden to charge unattended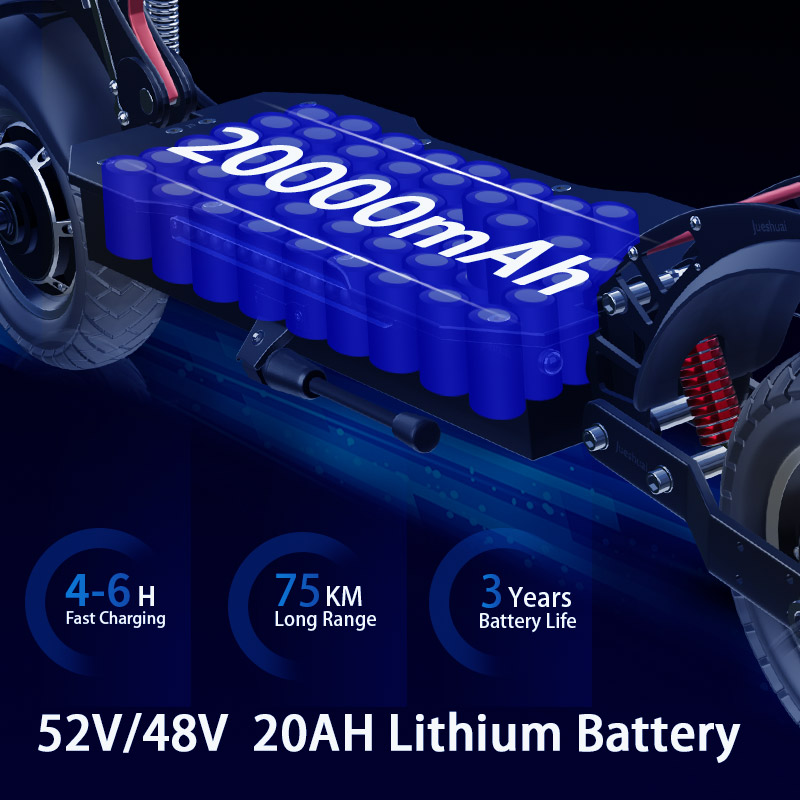 JUESHUAI Authentic
Not easy to damage
Raised brake efficiency 400%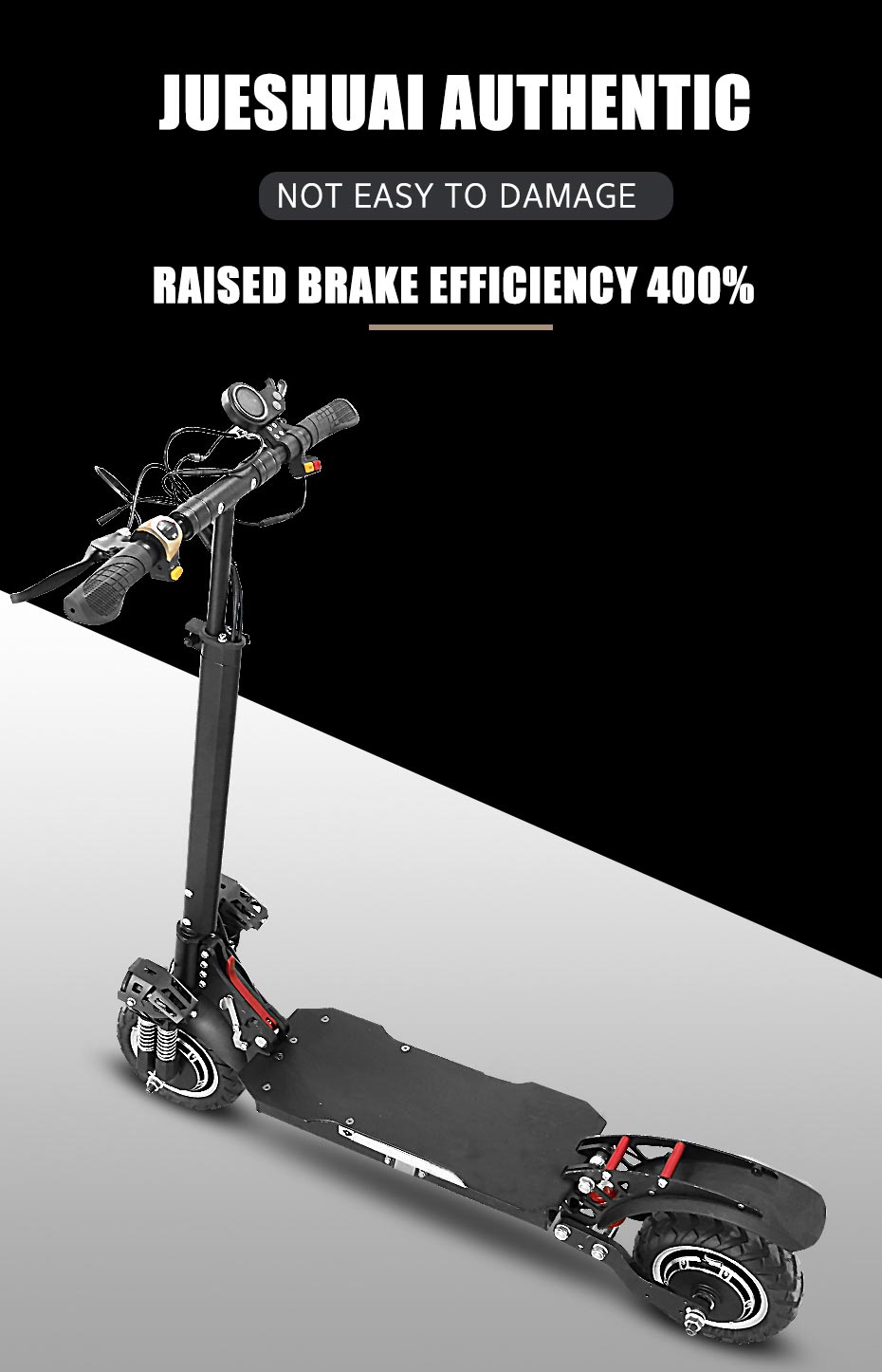 Explosion -Protected Tires
Suitable for this complex street location. High-quality off-road pneumatic tires provide a better driving experience.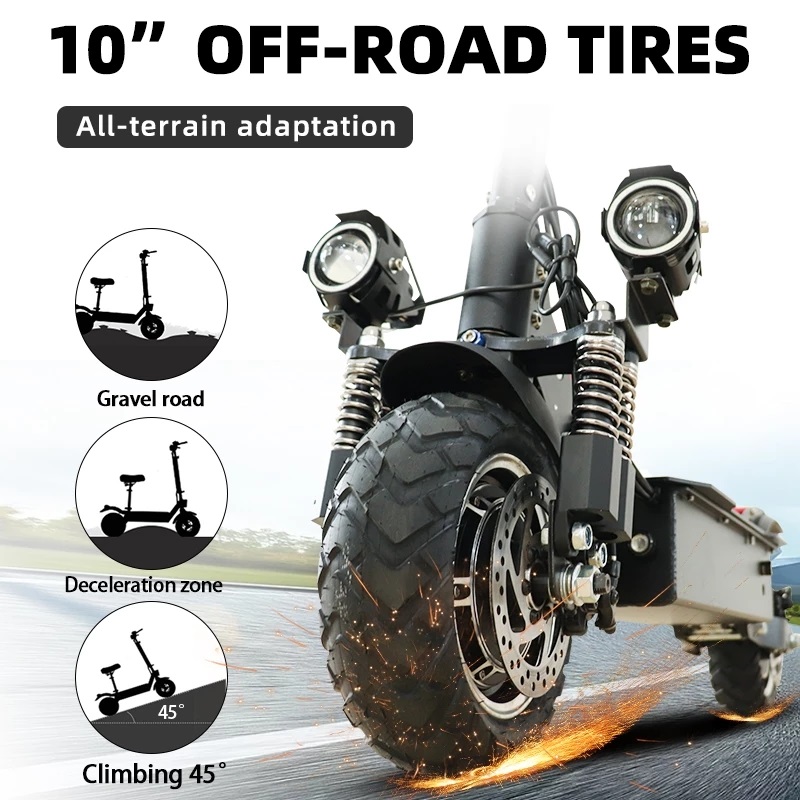 Front and Rear Disc Brake+ EABS
When Braking, the brake lever is automatically powered off. Motor is buffered backwards, which greatly shortens the time, which greatly shortens the braking distance, safer
The front and rear double brake system allow you to better control the speed and drive safely. And it has ABS anti-lock brakes to avoid emergency braking and rollover.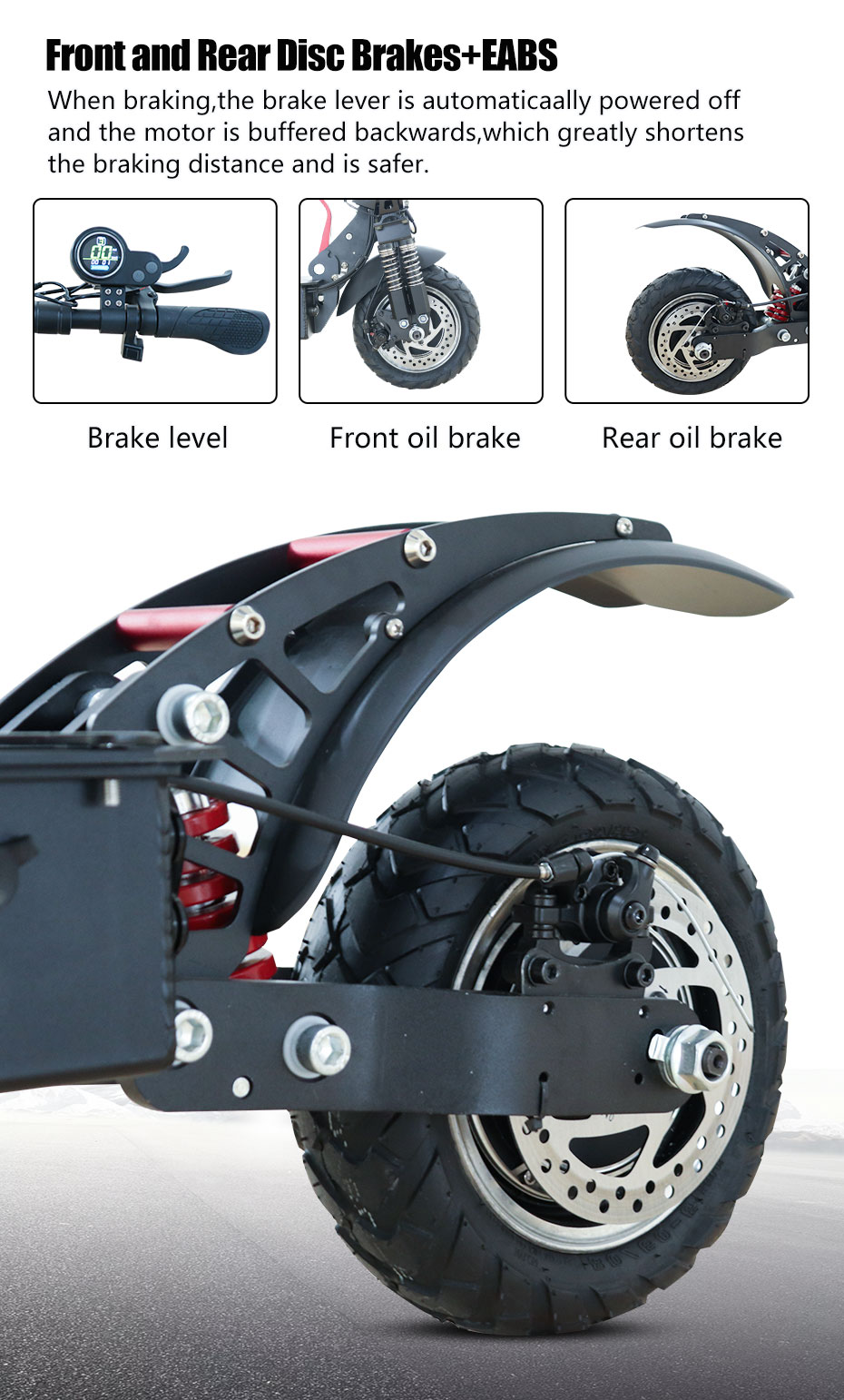 Superior Shock Absorption System
front-wheel shock absorption: 4 high-performance springs. rear-wheel shock absorption: 1 large spring shock absorption.
High-quality off-road pneumatic tires provide a better driving experience, and the shock absorption effect is better than solid tires.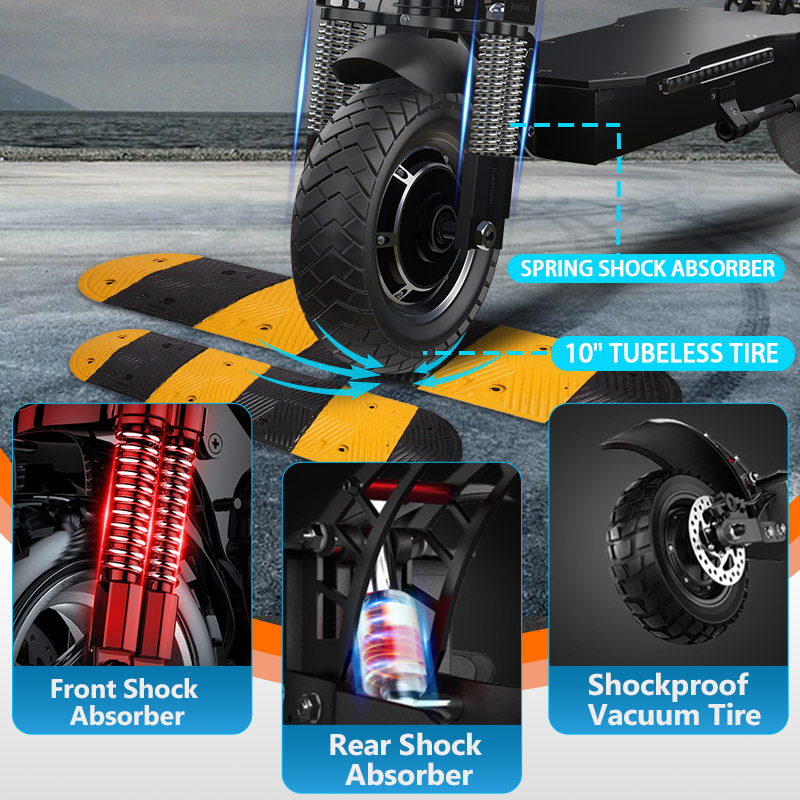 IP54 waterproof Grade
Never rusty
Can also drive on rainy days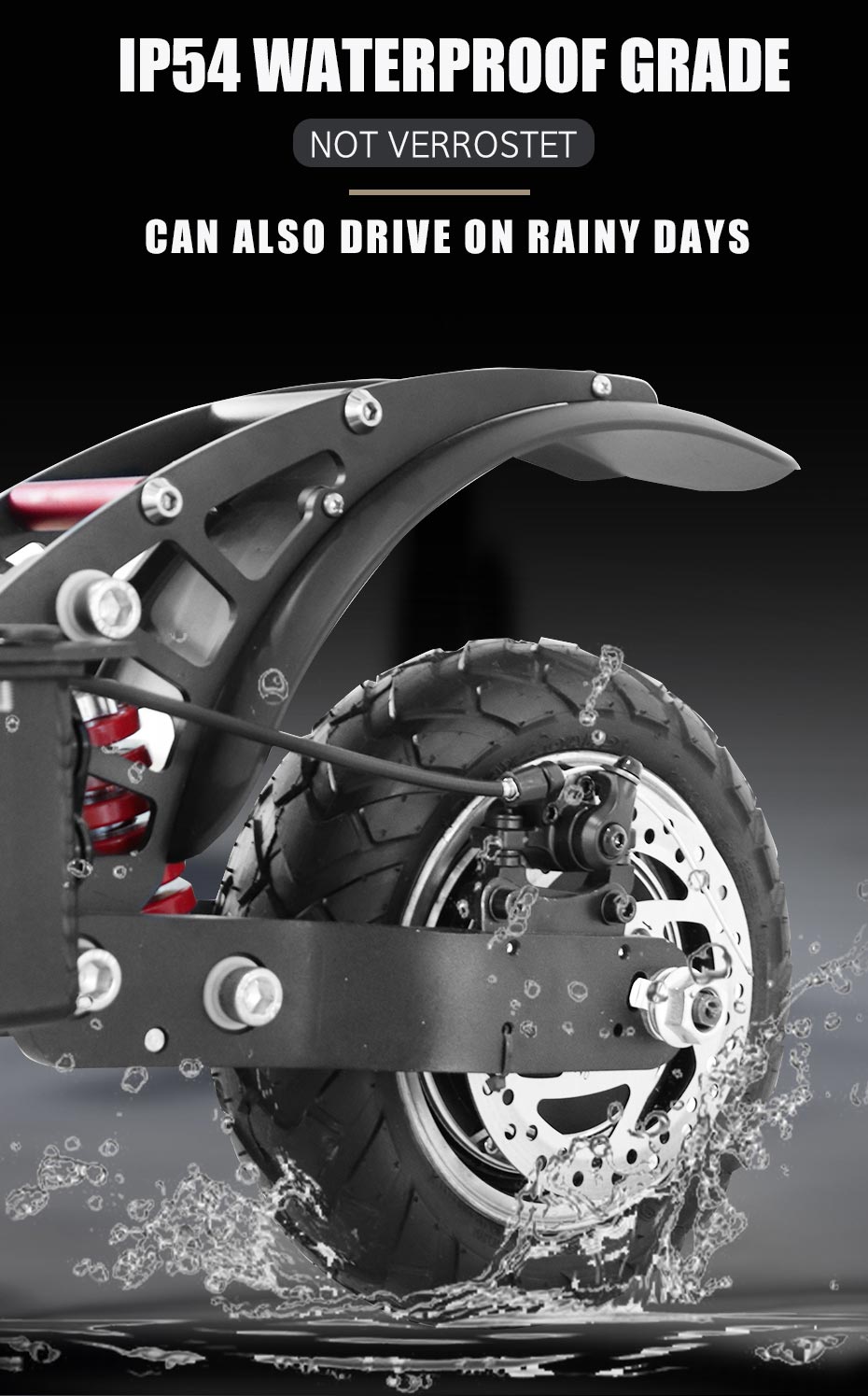 Angel Eyes LED Headlights
The front double super bright LED lights, the range is 20m. The rear brake lights and warning lights make it safe to drive at night.
Note: as the headlamp is easy to be damaged during transportation, we put it in a separate box, which needs to be installed by yourself. Easy to operate, you can contact customer service if you have any questions.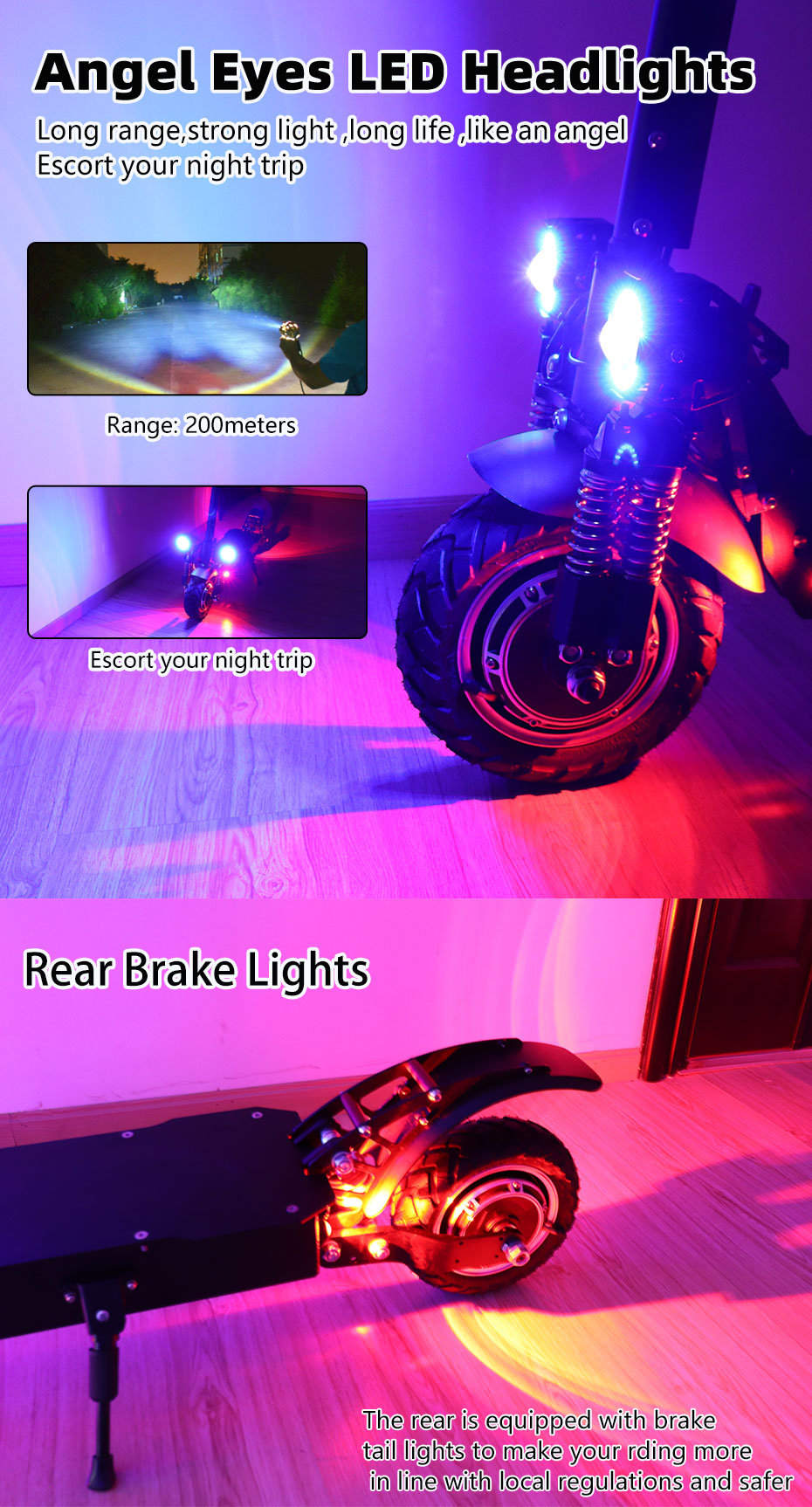 Scooter folding method
As shown in Figure 2, find the silver buckle on the front of the car. First push the buckle forward, and then push the buckle backward while moving the front of the car up, and finally, the car body is folded. Rotate the ring sleeves at both ends of the handle to realize the folding of the handle.